Cortijo La Lagunaria, La Joya de Agua Amarga, Cabo de Gata – Nijar

€ 525.000
Constructed 239 m²
4 bedrooms / 3 bathrooms / 2 living rooms
Pool 40 m²
Land 2.210 m²

A reformed Cortijo – full of Mediterranean light
This Cortijo became a light-filled house after its reform in 2002. With the first floor added, the dream of 360-degree views was fulfilled. The upper floor has large windows in the living room and bedrooms and a spacious terrace, allowing spectacular views.
The traditional farmhouse on its ground floor with strong walls allow freshness in the summer. Especially since the house is set on top of the hill of La Joya.
Two bedrooms with two bathrooms on the ground floor and two bedrooms with a shared bathroom on the first floor are cosy. A pleasure to see the open kitchen and dining room area with access to the garden and orchard and a built barbecue.
The most impressive about this villa, apart from its beautiful garden with water from its own source and the self-irrigation of plants and trees (hundreds of cypresses like a fence around the property): one is left to decide among the beautiful swimming pool and the shaded terrace. Its like an out door living room and a lovely dining area, well protected from the everlasting sun, in the direction of the sun set!
The Cortijo is located on the "La Joya" hills of Agua Amarga, in a small neighbourhood. The property has an open view onto the Gabo de Gata – Natural Park in close distance the Mediterranean Sea.
Well water legalised
Septic tank biological
Public Electricity supply
Thermal solar energy for hot water
CEE Energy Certificate
Reformed and ampliado en 2005 fully licenced
Garden and pool maintained
Large vegetable garden fenced
Parking lot inside the property
Enjoy the photo album:
La Lagunaria

Flickr Album Gallery Powered By:
WP Frank
A 3 km to Agua Amarga and the beach.
A 55 km to Almería and Airport.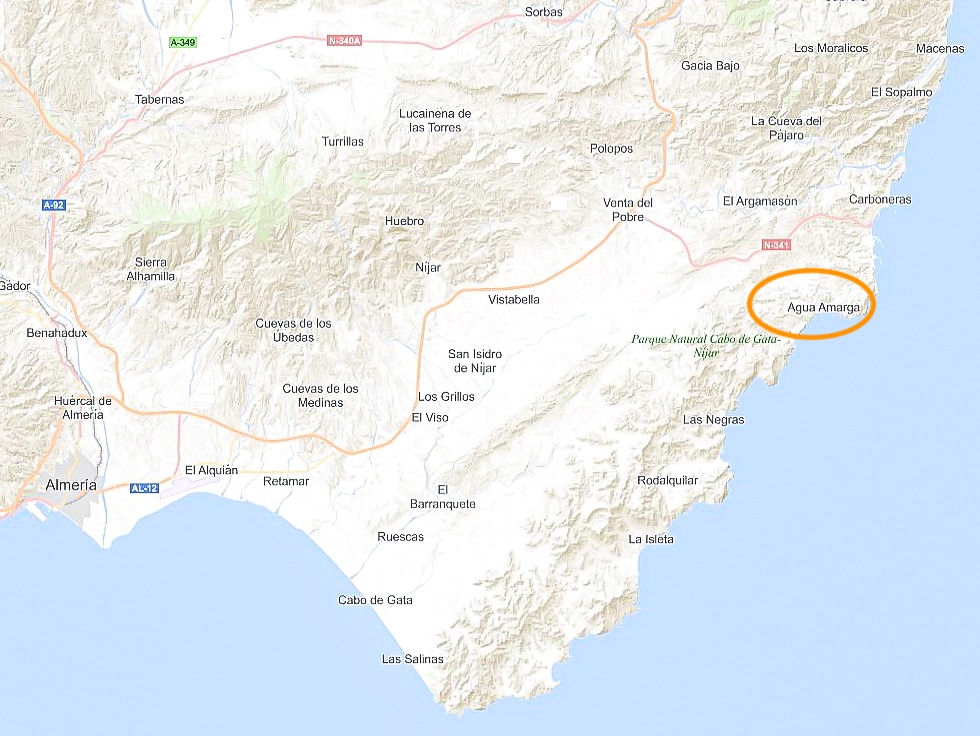 For more information, please contact Margaret von Schiller
+34 950 881 945 (Phone and WhatsApp Business)
margaret{at}casa-contenta.es