Casa de pueblo – town house – in Calle Amor in Las Hortichuelas – Cabo de Gata
For Sale
220.000€
Build size 214 m²
Ground floor 93 m²
First floor 96 m²
Court yard 25 m²
Plot size 144 m²
Garaje
Amazingly spacious town house – in Cabo de Gata – Almeria
This very clearly structured villa was built in 2009 with a lot of roominess and good materials.
The panoramic views are enchanting and the small village is perfectly situated to enjoy tranquillity all year round on the one hand and is only 3 km away from the sea at the natural park Cabo de Gata on the other hand. To be precise between Las Negras and Rodalquilar and close to Fernán Pérez and thus quickly on the motorway to Almeria and of course also to the north.
A house that invites you to breathe in the countryside
If you want to have it plain and comfortable or perhaps even work a lot undisturbed – home office or creative like its previous owner – you have a wonderful place here. The rooms also offer different possibilities for usage.
The large square in front of the house is part of a cul-de-sac and the gardens and fields below are well tended. The village is still enlivened, even if some residents only come at weekends. A little oasis.
All materials and the construction have been chosen with a lot of care and you can already see in the photos how much charm the house is radiating, waiting for a new owner to come along.
Features of the house newly built in 2009
Ground floor with 96 m²
Living room of only 45 m² with double glazed with 'French doors' to the street, East facing
Hergom built-in fireplace with two-speed motor/fan
kitchen (Cata) and stone countertops
bathroom with shower (Roca)
pantry
Large garage with direct access to the kitchen
Uncovered patio of 25 m²
Air conditioning in all bedrooms and living room and also in the kitchen (hot and cold)
High quality materials in general, wood (doors), marble (floors) and aluminium (windows all with mosquito nets and shutters)
Hot water by solar system
All documents and EEC (Energy Certificate) available
Distribution plan
First floor with the most beautiful views of the natural park Cabo de Gata from every room
4 bedrooms on 93 m² with small balconies,
Built-in wardrobes
Windows-doors with double glazing, mosquito nets and shutters.
1 bathroom with bath and shower, also with balcony.
Terrace/patio on the upper floor used as a laundry room and for hanging out clothes
Interior storage room
The careful design of the house, together with the use of high quality materials combined with charm, as can be seen in the photographs, give this house its special appeal, which awaits its new owners.
IMPORTANT to know: the house is sold without the furniture. The current owners will move to France in June. They have new adventures in mind and will take all the furniture with them. Of course, all the installations, as well as the kitchen and built-in cupboards will be left behind, – and perhaps also one of the lovely sculptures that were created here.

Foto album
Casa Calle Amor en Las Hortichuelas

Flickr Album Gallery Powered By:
WP Frank
Only 3 km from Las Negras and the beaches of the Natural Park Cabo de Gata – Nijar.
50 km from Almeria.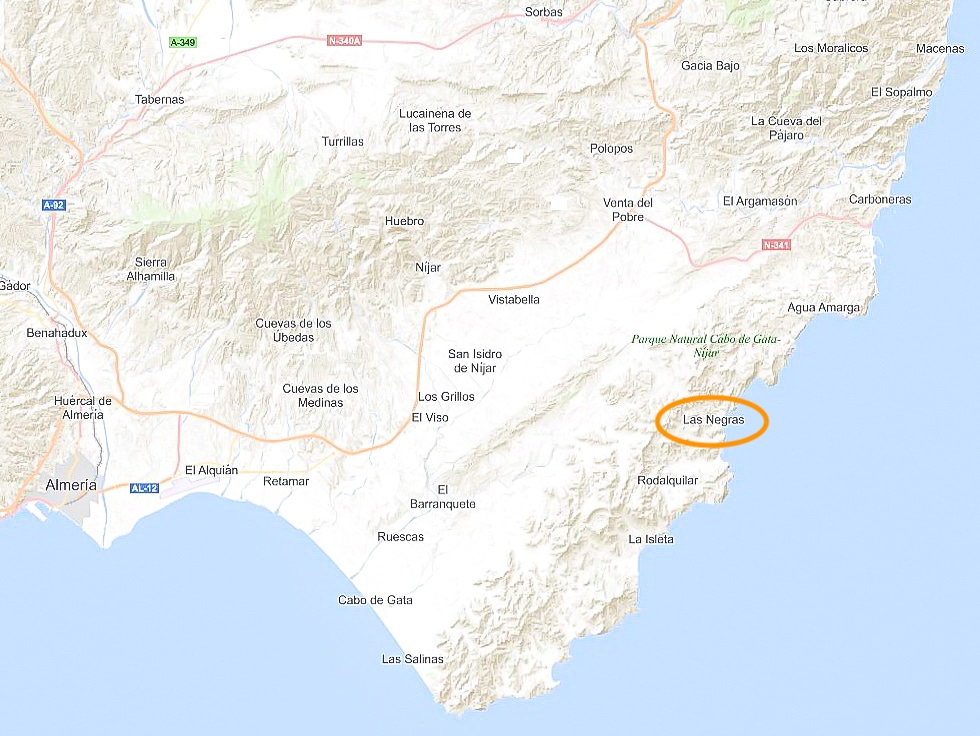 contact with Margaret
+34 950 881 945 also WhatsApp