Two Apartments in Los Baños de Sierra Alhamilla
For Sale
€ 47.500 / € 60.000 with garages
Small and comfortable – The two 1-bedroom apartments are of a surface 51m² and of 67m² both on the ground floor of the apartment building . One faces to the West and the other East. One has a large terrace and the little one does not have one. Both have a garage space.
They sell separate by the same owners. Each on its own title deed.
Undoubtedly the apartments are located in on of the most emblematic sites in the province of Almeria, in Los Baños de Sierra Alhamilla, famous for its 58-degree hot springs. Its  view between mountains, desert and sea are unique and there is no doubt that the Phoenicians, the Romans and the Moors in their time, as well as the filmmakers enjoy this unique place. Google Maps
An opportunity to hide away in the South in a modest way.
PISO / APARTMENT I
PISO / APARTMENT VIII
Floor Plan Apartment I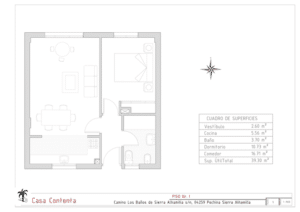 Floor Plan Apartment VIII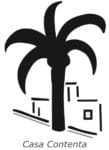 Casa Contenta Almeria
+34 950 881 945
contact{at}casa-contenta.es