Newsletter Casa Contenta Almeria Oct, 2018
(Reads 2 min/Video 7min)
Cortijo El Saltador, Lucainena de las Torres, Province of Almeria, Spain
For Sale   1,35 Mio €
Today, we address all those who have found peace, concentration and balance to be an important feature in their daily dealings.
The Finca El Saltador in Almeria, Andalusia has achieved this goal and over the last few years has led many people to better maintain their inner peace in the maelstrom of everyday life.
Whether Silent Retreat, Vision Quest, Educational, Research or Creative Workshops, the participants all had one vision in common: Peace and Focus.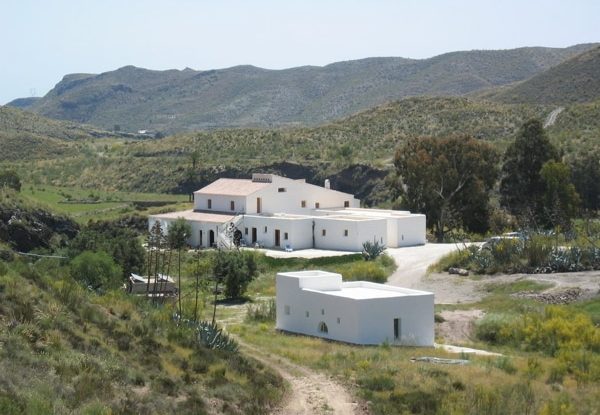 Cortijo El Saltador. The large main building with its 12 guest rooms. The separate seminar room is designed for group work.
 What allows us to speak of 'Peace' in the first place? At first for the property with its 35 acres of land, which includes most of the wide horizon. And second the 325 days of sunshine and the absolutely dark nights that allow your eyes to simply glide over the horizon, to watch the moon go by and to admire the starry sky.
The autonomous power supply of the property invites to gain knowledge about the daily use of solar energy. Because of its climate, Almeria has been a permanent location in worldwide solar research for many years. Geologists, marine biologists, astronomers and also archaeologists work in the province. The intensive vegetable cultivation raises questions of the future. We think that a house like the Cortijo El Saltador can provide an important location for managers, engineers, researchers and their future successors.
We would like to draw your attention to this unique property for your projects and environment-friendly goals, and to provide your employees a place for intensive exchange and development of contemporary, well-balanced teams.
The Cortijo El Saltador is FOR SALE by the International real estate agency REMAX Jumbo in Madrid for € 1.35million.
You are welcome to contact us directly for more information as to tecnical details, floor plans, title deeds and registration.
We like you to take 7 minutes to watch and hear the story of this house in a video we produced recently. The owner Claudia Scholler wants to retire after almost 20 years of passionate development of the project and tells about her first years and the construction of this special place.
Almeria, 12.09.2018
Margaret von Schiller
margaret(@)casa-contenta.es
Casa-Contenta Almeria