Cortijo Rincon de los Encuentros
For Sale
€ 245.000
150m² plus atico/2409m²
This very beautiful Cortijo is for sale with its 2409m² of organic farming land and with the well maintained house in the middle of green gardens and trees and with a spectacular 75m² studio room attached.
The house counts on 3 bedrooms and 2 beautiful bathrooms, a living and dining room, kitchen and plenty of  terrace space and storage rooms.
The house is built over two floors and is enjoying spectacular views from the upstairs rooftop. The interiors are of quality and taste.
Central heating per electric heat (night rate). A fireplace embedded  in the living room. Plus pellet stove on the first floor. Therefore cosy in the winter!
Attached to the house is a 75m² Studio room with its own changing room, toilet, shower and kitchen, formally used as Yoga studio. Separate entrance and connection to the interior of the house, heated with a potent balcanic stove.
The Cortijo has a land plot of 2409m² with intensive production of organic cultivation of orange trees, olives and some variety of fruit trees for consumption. The oranges are currently collected through a cooperative.
The irrigation of the whole farm is done by automatic drip from communal water well system. The property has easy access by car on an although narrow 150m road.
The house is in absolutely perfect condition. Orientation Southeast
A charm of place with soul.
The town of Instinción is located in the Almeria Alpujarra and Andarax Valley with a population of 463 inhabitants, at an altitude of 431m and only 35 km of the provincial capital Almeria on a comfortable national road . Google Maps.
Instinción has primary school and college and basic infrastructure. Alhama de Almeria is the next largest town in the area.
Distribution plan and more detail by Email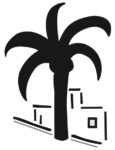 +34 950 881 945